Sherman Downey - Vocals
Cory Slade - Drums
Wes Hodgson - Bass
Mike Stewart - Guitar
Trevor Sturge - Guitar



Hung Up are a St. John's/Mt. Pearl based band making a name for themself.
With the members of the bands being experienced local musicians (Mike Stewart is in Bucket Truck, and was a member of Clobberhog; Trev Sturge was a member of Good To Go; Cory Slade is a member of Bud and Plan 13), it hasn't taken them long to get get where they are. Which is not to say they didn't work to get here!


Trust me, they did!




If you are looking for some Hung Up music, they have
recorded a demo, but it's not something they brag about.
They are scheduled to record an album for Crack Records
in the new year, so look for that sometime in '99 or 2000.
As far as big concerts for them go, they played on the 2nd
stage at the St. John's stop of Summersault '98.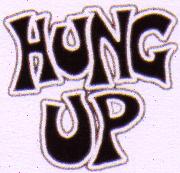 If you are looking for the official page, click here.
Check out my friend Johanna's Hung Up section!

Finally, here is a list of all my Hung Up pictures that I have along my pages...
--A nice pic of Wes and Mike...click
--A pic of Cory signing some girls arm...click
--Hung Up in concert...click
--...From the same show...click
--Another live Hung Up shot...click
--Yet another live shot of the band...click
--A Hung Up set list written on a pizza plate...click
--The graphic they use for their latest sticker...click
--A picture taken by "Abby" at Peace-A-Chord...click
--The cover of their EP, Old and Happy...click
--Hung Up at Peace-A-Chord'98, taken by me...click



---