On July 1st, 1998, what was entitled the Thrill on the Hill took place. Four smaller acts performed, and the big name was THE VILLAGE PEOPLE!! The whole thing started when I purchased this...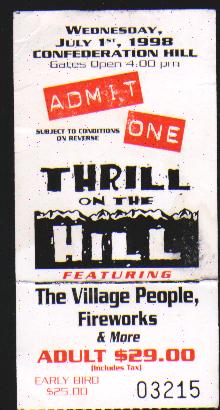 It cost me $26, but oh well...
---
The first band to play was the local group Billy and the Brusiers. It was my first time ever hearing them play, and I thought they were really good. I think they played for about one hour, and most of that time, for me, was spent runing around, having fun while it stilol wasn't raining.
---
Then came Cory Tetford. This was also my first time seeing him. His music was OK, but what really stood out was their cover of the Wallflowers song, "The Difference". Really well done.
---
Next was Damnit Doyle (if you know how to spell her name, please tell me...)
Look at Ms. Doyle and band!
Her music was really good, and I enjoyed it very much. I'd have to say that it was this act that I liked the most there, even more than the Village People. I even got to meet the celloist afterward, see!

---
Following that came the band Spirit of the West. It was my first time really hearing them perform, besides for the song by them I had heard on the radio a couple years ago. They played a really good set, including a cover of a song that I don't know the name of...You can sing along with me, if you want..."When the moon hits your eyes like a great pizza pie, it's amoureee!!". Yeah, you know the song! People started to crowd surf to them, which impressed me...

---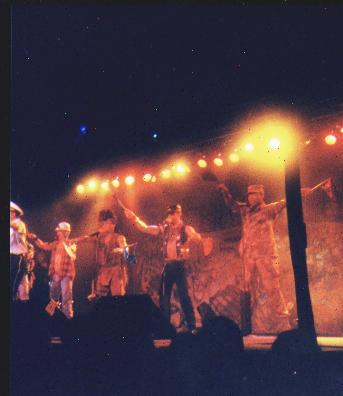 Finally came the Village People! Look at what the Village people have atached to their sticks...If you can't tell, it's underwear, and bras, and the like...!
Well, the Village people came out, and the two thousand people or so that were there seemed happy to finally see them. The rain was really comming down hard then, and not many people seemed to care. They played all the songs that everyone knew, including "In the Navy:, "Macho Man", and of course, "YMCA". I'd say that if it weren't raining, it would have been worth it, but I really don't know if it was worth $30 in the end...

---