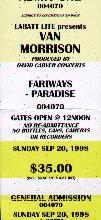 The legendary Van Morrison was here for a concert on Sunday
September 20th, 1998. The concert had been planned to happen
out at Fairways in Paradise, but due to a very small amount of
presold tickets, it was moved to Memorial stadium. I'm not a Van
Morrison fan, what so ever, but my father bought me a ticket, so
I decided I'd go, anyway. Besides for the fact that I don't like
his music, he still put off a good concert. I took an article and
picture from The Telegram's site, so that is what is below...
9/21/98
By Mark Vaughan-Jackson, The Telegram

It was standing room only - sardine-like in places - as Van Morrison wowed a capacity crowd in St. John's Sunday.

The musical giant played in front of 5,500 people at Memorial Stadium, singing such classics as Georgia on My Mind, Real, Real Gone and Have I Told You Lately that I love You.

After Newfoundland singer Kim Stockwood warmed up the hometown crowd with hits from her debut album Bonavista and new tunes from a forthcoming release, it was all Van, all the time for nearly two hours.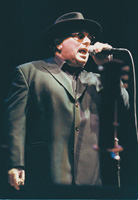 Backed by a seven-piece band, Morrison was a rather reserved presence on stage.

Clad in a black suit, black hat and sunglasses, the singer was physically restrained during the show, preferring to let his voice carry the emotion.

And even after close to 30 years in the business, Morrison delivered his hits in a CD-quality voice, each high note greeted by cheers.

The crowd - which filled every bleacher seat, the entire playing area of the stadium and the balcony - was loud and demanding.

After one encore, the crowd - clearly thirsty for more - vented some frustration with a few boos when the lights came up and the stagehands moved in to break down the stage.

Erin Reid, Tiffany Wall and Dave Murphy agreed with many that Morrison could have played a few more of his big hits - most notably Brown Eyed Girl, the song most people coming out of the concert said they had been waiting for.

"I have Brown Eyes and that's my song. I really wanted to hear it," Reid said. "I expected more classic hits but it was really good. He did a really amazing job."

"My mom's the really big fan, she has like 20 of his CDs," said Murphy. "But I think he's better live."

But for every contented fan who left the show, there were some who never got inside.

Due to a miscalculation on ticket sales - a mistake promoter David Carver takes full responsibility for - close to 600 people with complementary tickets weren't allowed in.

Despite radio ads running throughout Sunday, many of those with what they thought were free tickets arrived at the concert only to be turned away at the gate.

"It was a calculation error and I'm responsible for that, totally and 100 per cent fully to blame for the calculation of the number of tickets that were sold in advance," Carver said after spending more than an hour talking to some of those affected.

"We didn't think we had as many tickets sold and that's why we put more tickets on sale."

Carver said he spent most of the weekend working with officials from the fire commissioner's office, the stadium and city hall looking for ways to expand the stadium's 5,500 capacity to accommodate the 600 or so complementary ticketholders.

But none of the plans met with the approval of all parties involved.

Now that the concert is over, Carver said he will devote his energy to making it up to the disappointed complementary ticket holders.

Some of those holders managed to get into the show anyway.

Scalpers were doing a hot trade outside the stadium, with prices early in the evening starting in the $50 range but dipping to $20 a pop later in the night.

Some people gave up and left without trying to argue.

One group who had bought tickets from a friend who'd won them in a radio station giveaway, didn't even try to get in.

One woman who'd driven in from Clarenville was upset that while she wasn't allowed in, delegates from the Softworld '98 conference in town this weekend were.

Carver noted Softworld '98, a major sponsor of the concert, had bought a block of tickets back when the show was still supposed to go ahead outdoors in Paradise.

Those tickets, included in many conference delegates registration packages, were honoured at the indoor venue.

Another couple who came in from Gander with complimentary tickets did eventually manage to buy some from somewhere and get into the concert, though several songs into Morrison's set.

Even as they walked towards the stairs, one of them claimed she still wasn't satisfied.

Carver said because of the error he's urging anyone who had complimentary tickets to the show to hold onto them - he will do something to make up for their disappointment.

Meanwhile, Van Morrison performs in Halifax tonight.


---